Windows 11 22H2 Blue Screen of Death WARNING!
Microsoft has finally released the windows 11 22H2 Optional Update KB5017389 (Build 22621.608) but not without its flaws.
This update is designed to bring new widgets and easier-to-manage notifications along with security patches and plenty of bug fixes.
If you are planning to install this update, please read on!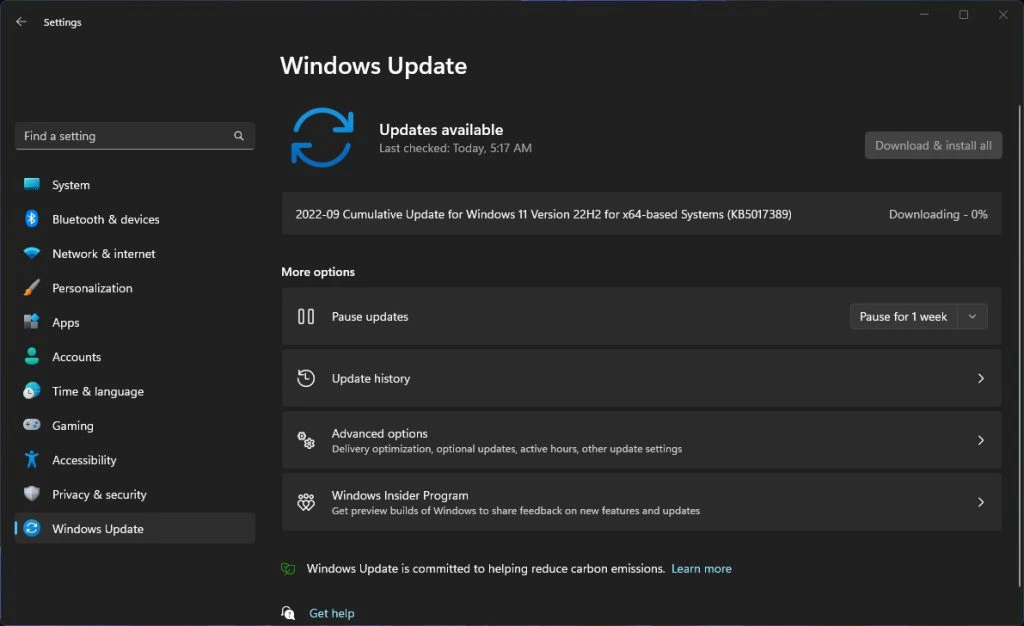 Already there have been a number of reports relating to Blue Screen of Death when applying this update.
We've had reports of BSODs before, during and after the 22H2 Update has been applied. In this article, we will not be talking about the new features of windows 11 22H2, instead, we will make sure you are prepared to apply this update.
In the unfortunate event that you start to experience Blue Screen of Death, we recommend you take the following steps before applying the windows 11 22H2 Update to your PC.
1. How to create a Windows 11 Restore Point
We will start by showing you how to create a restore point in windows. Restore points allow you to take your PC back in time to the exact state it was in when the restore point was done. This will also delete any new files you have created since the restore point was put in place.
Begin by searching for "Create a restore point".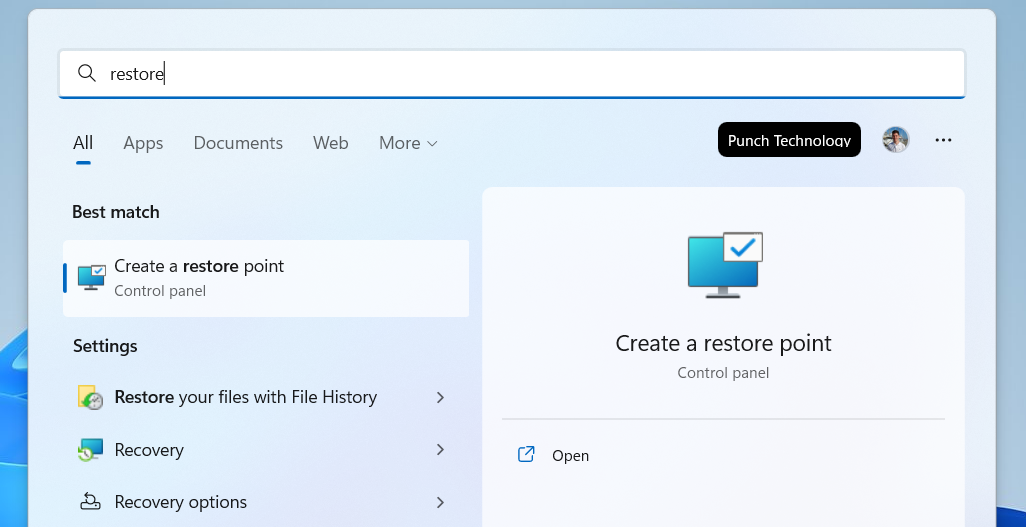 Click on "Create..."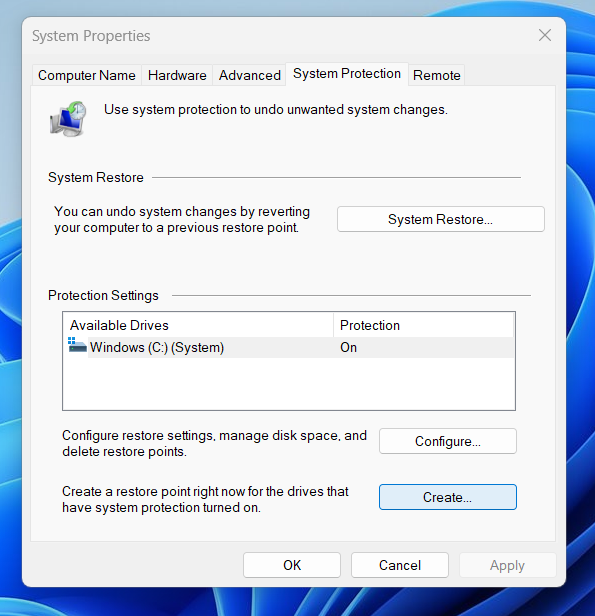 Give your Restore Point a name, I've decided to name mine "Windows 11 22H2" and click "Create".
The restore point will begin to create and a message like the one shown below will appear when the creation of the restore point has finished.

How to Use a Windows Restore Point for Windows 11
Now that we have created the restore point, here's how to use it.
Open the Restore Point menu again and click "System Restore..."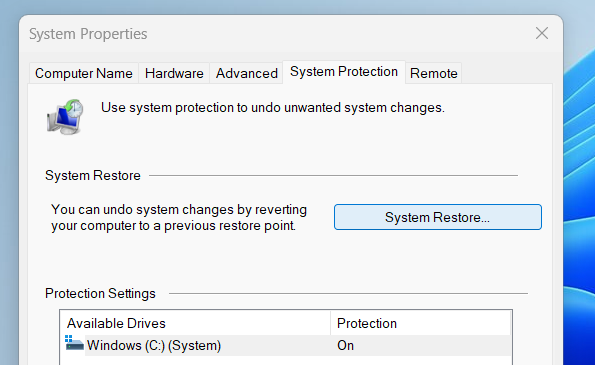 Click "Choose a different Restore Point" and click "Next".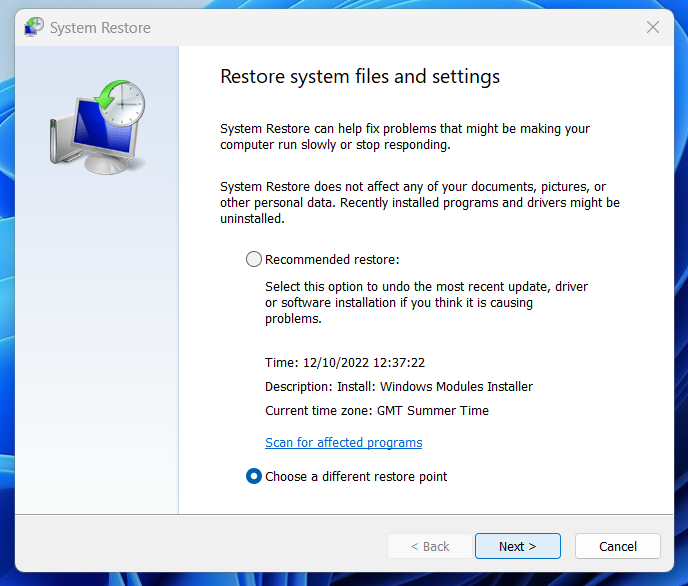 Select your restore point, in my case "Windows 11 22H2" created on 13/10/22 and click "Next".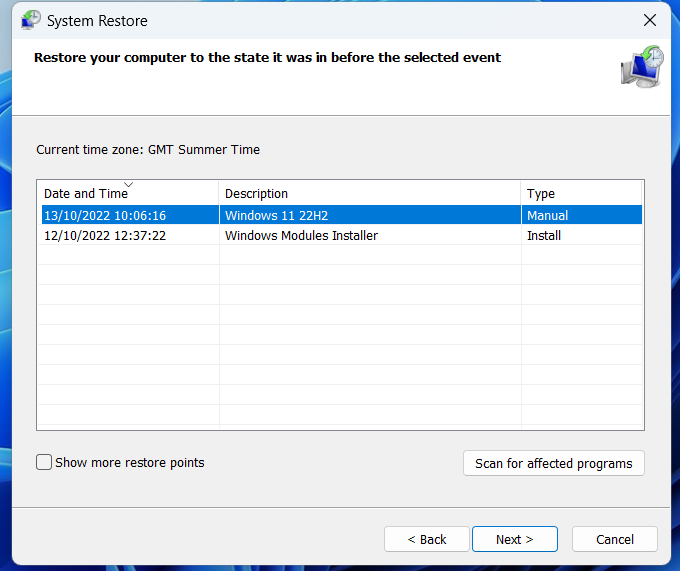 Once you are happy with your selection, click "Finish" to begin the restore.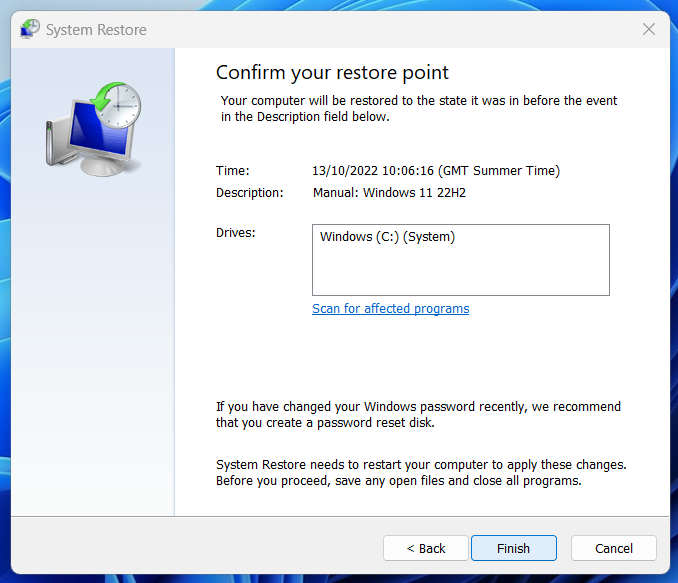 2. How to Create Windows 11 Installation Media on USB
We also recommend that you create a windows 11 installation Media on a USB. You can do this on another computer, however, in case you do not have access to another computer, it is worth creating this prior to beginning your update.
For this we have an easy-to-follow video guide which you will be able to watch below:
Now that you have created a restore point and windows 11 installation media on USB, you are ready to begin the windows 11 22H2 update worry free!